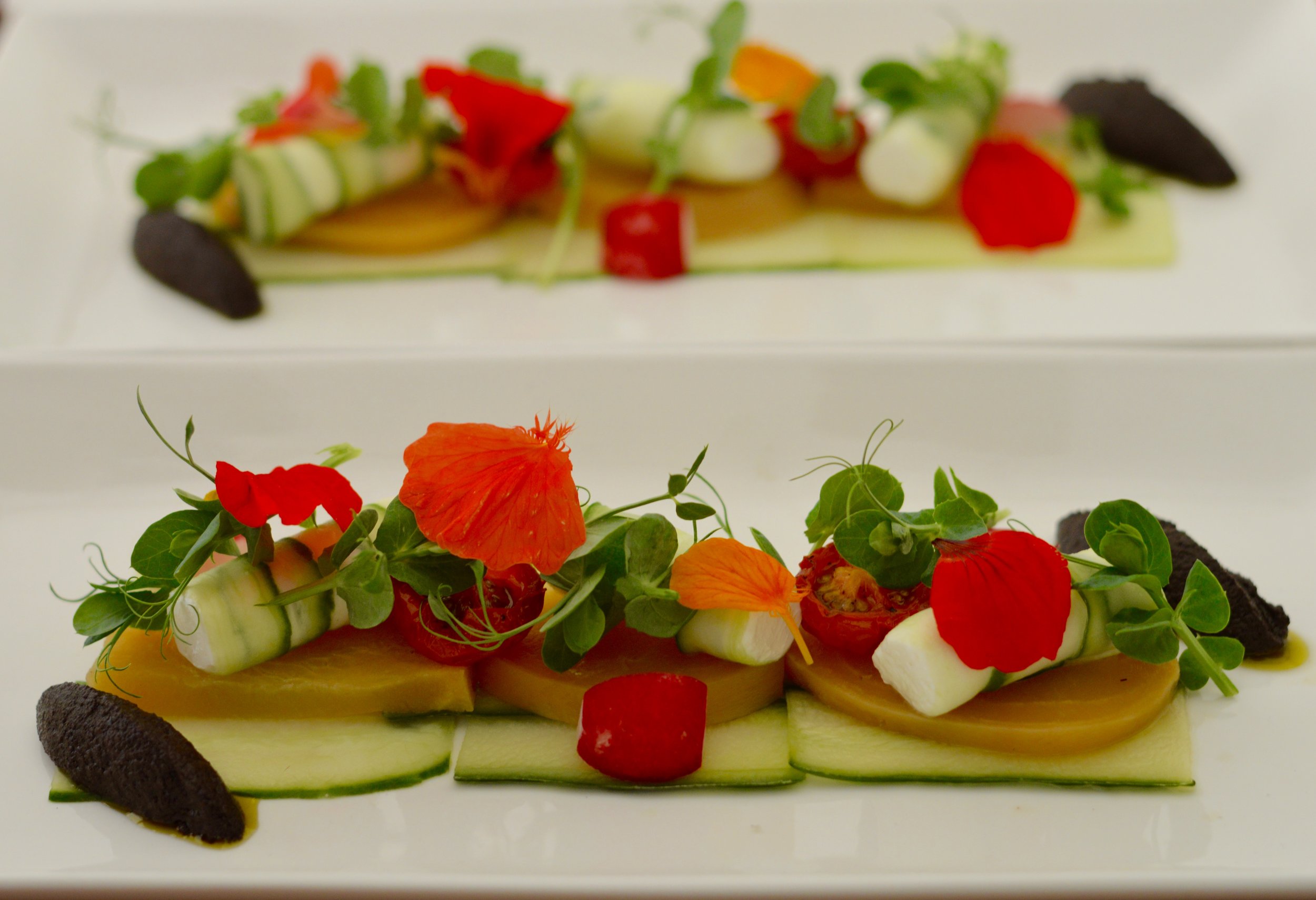 Oystercatcher Catering
Snettisham, Norfolk
Local, Seasonal Catering With A Conscience
Us and Our Ethos
We enjoy building personal relationships with each customer as we plan their special meal together, tweaking the menus until they're just right . By the time the big day comes around, it often feels like we are feeding friends, rather than customers.

doing our part
Doing our part to help preserve the planet is hugely important to us. As a result we run our prep kitchen on 100% renewable energy, grow our own produce which is often incorporated into the meals that we serve and compost our green waste, source all produce as locally as possible, prefer to use low impact meats such as game and only use sustainably sourced seafood. We even recently won an international CSR award for our efforts in sustainability.
Our love of Norfolk
The name of our business came to us one evening on our local beach, surrounded by oystercatcher birds flying against a pink sky. They embodied what we love about Norfolk and how the area makes us feel.
Norfolk has incredible produce on offer. By using local, seasonal produce (some of which is grown by us!), we strive to share this love of Norfolk produce with each diner that we feed.
US
We are a husband and wife team, Jackson is the head chef and master of all things food and Fiona is in charge of front of house, bread baking and the day to day running of things.
Our aim is to serve elegant, bespoke and delicious meals, using locally sourced produce, which Norfolk has an abundance of! Jackson has spent his career working in outside catering starting in London. His extensive experience in outside catering means that our jobs always go smoothly and with minimal stress.
Private Chef
A fine dining experience in the comfort of your home
Dinner Parties and CANAPÉS
Have an elegant and beautifully prepared meal with your family and friends without having to leave the comfort of your home, worrying about designated drivers or babysitters.
We provide a bespoke service and cater for all dietary preferences and requirements. Get in touch and we can create your ideal menu together.
Barbecues
Barbecues unlike you've ever had before.
All barbecues are cooked over charcoal for that proper barbecue flavour.
Tasting Menus
Wow your guests and settle in for an eating experience to remember.
We will come to your home and serve you a beautifully balanced 6-8 course tasting menu, celebrating the best of Norfolk produce.
Bespoke Wedding food for foodies
If you consider the food at your wedding to be an important part of the day and want people remember it for years to come, then we should talk!
We write menus bespoke to each couple, so talk to us about food that has been special to you throughout your relationship and we'll incorporate them into your dishes. This means you can tell the story of the two of you through your menu.
building relationships
We are a small company and each couple that we cater for is individual to us. Often by the time we get to the wedding day, it feels like we are feeding friends rather than customers.
flexible and easy going
We adapt our dishes to suit any dietary needs, so you don't need to worry about any of your guests going hungry.
"Oystercatcher Catering: delivering next level, fierce AF delights across 8 magical, mind-blowingly beautiful courses yesterday. There's 'wedding catering' and then there's these guys - passion, soul and so much damn talent in one team, it's ridiculous. These guys deliver everything you should be looking for in a wedding supplier, focus on quality, great client service, creativity, an amazing attitude and a genuine love for what they do...perfection."- Jo, One Curious Dream
Veggie/vegan yoga fuel
Healthy food doesn't have to be boring. Feed your soul as well as your body and offer something a bit different to your clients with our yoga menus. We will use organic, seasonal produce to create beautiful, healthy meals with big flavour. As lovers of yoga ourselves, we know what food leaves you feeling energised and ready for your next practice. Your yogi customers will spend their time looking forward to the next meal!
Testimonial from Katherine, yoga instructor
Holiday Cottage Catering
Make the most of your beautiful holiday cottage by using our services
Private CHef
Everyone deserves to relax on holiday, even the family chef! We'll travel to your holiday home and do all of the work. This means more time to enjoy your holiday and less time slaving away in the kitchen!
Meals Delivered
Who doesn't like minimal effort cooking? Freshly made meals delivered to your holiday home, just pop them in the oven until hot and serve. We also provide delivered barbecue boxes with everything you'll need to make an excellent barbecue.
Welcome Packs
We've all been there – you've driven for hours and arrived at your beautiful holiday cottage. You're tired and hungry and there's not enough food in the house for your first meal. That's where we come in: This box is filled with everything you need for your first meal. It showcases a selection of Norfolk's seasonal finest to get your holiday off to a good start.

Get In Touch!
We cater for any sized party, so if you're looking for a catered hen/stag do, a wedding meal or just a romantic meal for two, get in touch so together we can develop your dream menu.
E-mail us at:
info@oystercatchercatering.uk
Call us on:
07960414970
Testimonials
"We are long overdue in thanking you for the super-human efforts you and your team made on the 12th July. Without exception every single guest has commented on this superior quality, delivery and style of your wonderful food. You and Fiona put up with all manner of chaos and catastrophe to deliver an impeccable service from start to finish. Thank you for playing such an important part in a day we will remember forever. We continue to sing your praises far and wide and would be more than happy to speak to any prospective clients about the quality they can rely upon from you/Oyster Catcher Catering. Thanks again." -Will and Charlotte
"We all had such a lovely time on Saturday and THANK YOU so much for a really, really delicious meal - everything was perfect and we all enjoyed every mouthful! Your organisation in a strange kitchen was amazing, and you had to put up with interruptions, chatting, dogs, and all sorts! We were so impressed with your calmness! I couldn't believe how immaculate the kitchen was when you'd left. What a treat for me - thank you!!" Polly
"Jackson and Fiona catered our Easter weekend in the Kent countryside and their food was the highlight of the trip. They prepared meals for all three nights (that's a lot of food for 20 people!) and each dish was not only thoughtfully put together but also beautifully presented. They have a great appreciation of local, seasonal produce and they clearly enjoy sharing their food and their talent with others. I would recommend them for any event, no matter how small or large."-Niki
"Oystercatcher Catering provided a top notch feast for my friend's hen do, despite the dodgy kitchen in our rented cottage! They designed a fun menu for our Scottish themed evening (deep fried mars bar wontons were a highlight!) I've eaten in a lot of top restaurants and this food wouldn't have been out of place in any of them. Brilliant stuff, can't recommend them enough." - Sara
Our Friends
Norfolk is full of fantastic local producers, here are some of our favourites
ELM Vintage Bar Hire
For all your alcohol service needs.
Love cakes
This woman's cakes are as delicious as they are beautiful.
One Curious Dream
Wedding planner extraordinaire! Jo is as lovely as she is organised, an absolute delight to work with.
Frog and Pencil
For all of your personalised stationary needs. The only thing more lovely about their artwork is the two people behind Frog and Pencil!
Voewood
A beautiful wedding venue for quirky brides and grooms